Episoder is a tool to tell you about new episodes of your favourite TV shows. It does so by parsing online TV episode guides.
Currently episoder can get data from epguides and TheTVDB and tells you whenever a new episode of a show listed on one of those sites is aired.
There is also a web-based version of episoder, called webisoder which can be used for free at webisoder.net.
Dependencies
In order to use episoder, you will need python installed on your system. In addition to the default distribution, the requests and sqlalchemy modules are required.
Installation
You can install episoder through pypi (using easy_install or pip) or by downloading the tarball from here and running easy_install episoder-0.8.5.tar.gz.
Download
Screenshot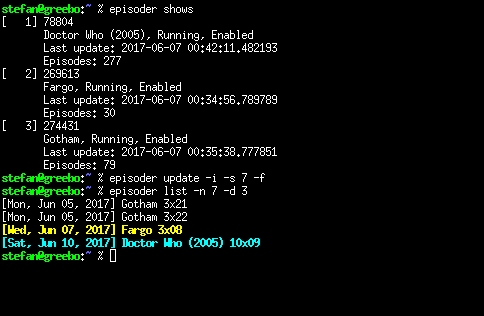 Bugs
Use bugs.ott.net to report bugs in episoder.
Configuration
The configuration file at ~/.episoder contains your default settings for episoder. After installing episoder man episoder will help you with the configuration.
Using episoder
To use episoder you will typically:
Create a cron job to have your database rebuilt once a day using episoder update.
Add episoder to your ~/.bashrc, ~/.bash_profile, /etc/bash.bashrc or /etc/profile if you want to see your upcoming shows every time you start a shell. Consult your shell's documentation to find out which file you want to use.
Or run episoder notify at regular intervals to get your notifications by e-mail.
External links
License
This package is free software; you can redistribute it and/or modify it under the terms of the GNU General Public License as published by the Free Software Foundation; either version 3 of the License, or (at your option) any later version.
This package is distributed in the hope that it will be useful, but WITHOUT ANY WARRANTY; without even the implied warranty of MERCHANTABILITY or FITNESS FOR A PARTICULAR PURPOSE. See the GNU General Public License for more details.
For more information on this, and how to apply and follow the GNU GPL, see https://www.gnu.org/licenses/gpl.html.